Team Gleason has provided over $15 million in assistive technology for people living with ALS to help them continue to live purposeful and productive lives.
A core element within the Team Gleason mission is to provide advanced technology for people with ALS, empowering them to continue living purposefully and productively. Team Gleason has partnered with leaders in technology and innovation to help accelerate not only providing advanced devices, but to create new and more empowering ways to live with ALS. As beneficial as the technology we provide or support is, we believe more can be done. To that end, we have collaborated with leading technology companies, organizations, individuals, university bio-engineering departments and others committed to advancing assistive technologies. Recent examples of collaborative efforts are below:
Independence Drive
Steve successfully challenged Microsoft during an annual hackathon to create an "Independence Drive" interface that would allow people who are physically disabled to navigate their power wheelchairs with their eyes. Currently, Team Gleason is working with others to develop a deployment strategy to make the technology available . Here is a short video of the history of the Eye Drive system:
Home Automation
We're also developing expanded tools to assist with home automation (Alexa for instance). People who benefit from these interfaces and devices are people with severe physical challenges like those not only with ALS, but also MS, Parkinsons, SMA, spinal cord injury, and veterans. In 2018, Team Gleason will provide voice banking for people living with ALS through a partnership with Model Talker. Preserving one's voice through voice and message banking maintains each individual's unique voice for themselves and for those around them. We passed the Steve Gleason Act in 2015, ensuring all those who need communication devices will get full access to them, whether at home, in the hospital, nursing home, or on hospice. The legislation was made permanent and signed into law in December 2018.
Team Gleason provides and supplements equipment and accessories for those living with ALS and other neurodegenerative diseases or injuries. With a changing medical benefits climate, we fill a void that most often, families living with these diseases cannot afford. Additionally, most families do not receive the home care needed and the equipment provided can supplement for another care provider when unavailable. Here is another short video that illustrates what Team Gleason does through technology:
Because of our collaboration with Microsoft and its Development Team, the company announced in 2017 that all Windows 10 products will all be eye gaze enabled. This will open the world of accessibility through the most used operating system in the world.
Two years ago the Team Gleason House for Innovative Living was opened. This nursing home household model has residences for up to 9 people living with ALS. The home has the hardwired technology that allows residents to utilize advanced controls, not available in their homes. Residents can open their own doors, window shades, control their lights, and utilize the latest in communication technology and more, despite their physical limitations.
While Team Gleason continues to forge paths for expanded access to technology and inspiring new or advanced versions of existing technologies, little could be achieved for the ALS community without a committed team and through a vast network of alliances. As global technology advances exponentially, our goal is to parallel those advances and expansions with assistive technologies. Our goal over the coming years is to expand our reach further, thus allowing access to assistive technologies for as many people living with ALS as possible.
Team Gleason has partnered with leaders in technology and innovation to help accelerate not only providing advanced devices, but to create new and more empowering ways to live with ALS.
Recent testimonials regarding pALS experiences with Team Gleason provided technology and their impact on pALS' and their family's lives can be found below: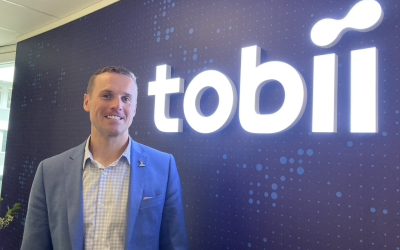 Tobii Dynavox and Team Gleason partner to support individuals with ALS to increase access to communication aids (July 11, 2023) - Tobii Dynavox, the world leader in assistive communication, has partnered with the Team Gleason Foundation, the leading provider of...
"Until there is a Cure, Technology is the Cure. Donate today to give others like me a voice."
– Steve Gleason