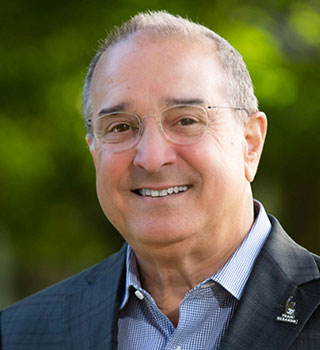 Paul Varisco
Chairman of the Board
Read bio
Beyond founders Steve and Michel, Paul is the original Team Gleason member. He is also Steve's father-in-law and the former Executive Director of the Foundation. After 11 years of building Team Gleason, we would not have made the impact, nor would we have helped as many people as we have, without Paul's steadfast leadership, insight, dedication, and patience.
Paul is a life-long resident of New Orleans, a long-time business owner, lead singer of a band, and a restauranteur. His talents include managing a group of intensely passionate people trying to help those living with ALS. Paul works endlessly to raise funds for Team Gleason while creatively implementing the organization's mission. Most importantly, he knows everyone's birthday.
Read bio
Steve Gleason played for The New Orleans Saints from 2000-2008. As a counter-culture athlete who spent his off-season adventuring in third world countries, he will always be remembered for his blocked punt on the night the Louisiana Superdome reopened for the first time after Hurricane Katrina.
In January, 2011 Steve was diagnosed with ALS, considered a terminal neuromuscular disease. Beyond his faith that there is a solution to heal, it is his mission to show that people can not only live but thrive after this diagnosis. In doing so, he intends to inspire others to do the same.  With that in mind, Steve and his wife, Michel, formed "Team Gleason" to help him accomplish those goals and more.
Steve has helped pass 2 laws, innovated for and helped create new technologies for people with ALS and other disabilities, is a Congressional Gold Medal Winner, and most importantly, the father of two amazing children.
Michel Varisco
Co-founder & Merchandise
Read bio
Michel has been described as the pillar of Team Gleason. Although most pillars don't collect swords and wear down jackets in the summer, she is eclectically the structure that completes and supports Team Gleason.

In her original role as Co-Founder of Team Gleason and also as Steve's wife, Michel had a crash course in ALS and all that implies. In the film, 'Gleason', she and Steve shared their story with the world, creating enormous awareness for the disease and Team Gleason. Her official roles are as an advisor and also managing merchandise for the organization, but she remains a pillar or maybe two. And, every good idea is always attributed to Michel.
David Darragh
Managing Director
Read bio
David joins Team Gleason as Managing Director, overseeing day to day operations and optimizing organizational structures. After a tenured career leading food manufacturing and marketing companies, David felt the call to pivot to a more mission-driven organization. David feels energized while working closely with and supporting the growth of his team members. He is excited by the bold goals of Team Gleason and the work they do to empower those living with ALS.
David originally learned about ALS through Lou Gehrig and draws inspiration from both him and Steve to work toward making positive changes in people's lives. David was born and raised in Cincinnati and lived in a few different cities before settling in New Orleans in 1998 after meeting his wife. They now raise two children together.
Blair Casey
Executive Director
Read bio
Blair Casey is one of the original members of Team Gleason, starting as Steve Gleason's caretaker after his diagnosis of ALS in 2011. After three years of caretaking, Blair's hands-on knowledge was needed to help others living with ALS live more productive and purposeful lives. As Team Gleason's Executive Director, Blair Casey provides executive oversight to partnerships, innovation, and finances.
Casey currently serves as the Chair of the Innovation and Technology Council (ITAC) for The International Alliance of ALS/MND Associations. Casey chairs Team Gleason's Technology Advisory Committee and has spearheaded partnerships with technology companies like Comcast, Google, Microsoft, and more. These relationships have allowed Team Gleason to continue innovating technology that provides people with ALS the latest in accessibility functions. 
Blair was named on Gambit's 2022 40 Under 40 list for his work and dedication to advocating for the ALS community through technological innovations.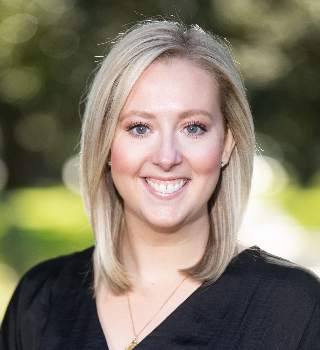 Read bio
On Sally's first day as a Team Gleason Intern, former Executive Director Paul Varisco said, "Stand up and give me a hug, you're family now." From that moment, Sally committed herself to Team Gleason's mission of helping people living with ALS. 
Sally believes she has the most exciting job at Team Gleason. Sally now helps lead strategic planning as well as organizational growth and development. She is our Chief Smile Officer.
Kenny Mellor
Finance and Operations Officer
Read bio
Kenny is integral to the fundamental day-to-day financial and operational aspects within Team Gleason. His background in business and finance has been an asset to Team Gleason's primary focus of helping people with ALS each and every day. The role Kenny plays ensures the Foundation can continue to say "yes" to thousands of requests each year.
Although Kenny did not know much about ALS, he joined Steve's care team in 2016 and now has a rich understanding of not only the disease, but a valued understanding of the complexities of caring for someone with the disease. Kenny's first-hand knowledge has made him a go-to resource for troubleshooting and problem solving for our team.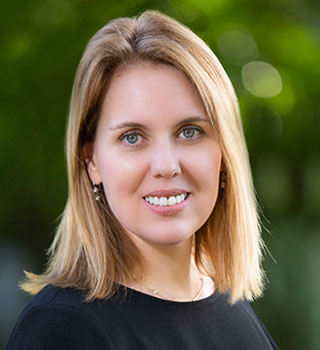 Suzanne Alford
Strategic Advisor - Marketing & Advertising
Read bio
Everything in Suzanne's life directed her perfectly to Team Gleason. She's been friends with Michel since the 9th grade, was in Steve and Michel's wedding, and is a leader in advertising and marketing.  When Team Gleason was founded, Suzanne jumped in with both feet to assist with all things creative. 
When Steve declared there will be "no white flags" when founding Team Gleason, Suzanne seemed to make that her personal mantra when approaching any project for the group or for people with ALS.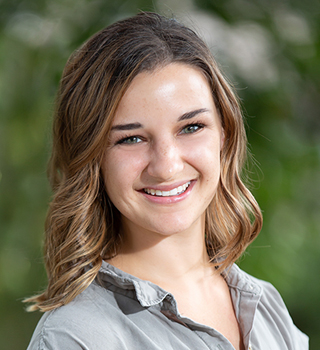 Emily Kornman, MCD CCC-SLP
Speech Language Pathologist
Read bio
Emily joined Team Gleason after obtaining experience as a Speech-Language Pathologist in an ALS multidisciplinary clinic, and neurorehabilitation outpatient clinic. Her value among the team is immeasurable and brings a critical depth of knowledge to help Team Gleason meet its goals of assisting and educating more people living with ALS. 
In her time at Team Gleason, Emily has said, "It feels unreal to be able to help the amount of people each day in the way that we do. This was a big change from working in a clinic where you have a certain amount of time to work with each patient and have to see so many per day, to being able to actually listen and assist each person no matter the time or insurance. 
A New Orleans native, Emily was a longtime fan of Team Gleason and has always been passionate about working with people living with ALS. Despite her fears of watching the film, 'Gleason,' because she felt she would cry for hours, she said it only made her more passionate to join the team and make an impact. We're glad she did.
Her value among the team is immeasurable and brings a critical depth of knowledge to help Team Gleason meet its goals of assisting more people living with ALS.
From New Orleans,
Adina Bradshaw, MS CCC-SLP, ATP
Innovation and Partnerships Project Manager
Read bio
Adina joins Team Gleason as Innovation and Partnerships Project Manager most recently from the Accessibility Center of Excellence at Twitter. Adina is a Speech-Language Pathologist with over 20 years of experience evaluating and implementing Assistive Technology solutions at the Shepherd Center Assistive Technology Lab and United Spinal's tech access committee. Adina is dedicated to ensuring tech accessibility, awareness, and impact for those with mobility disabilities. She is licensed by Georgia, North Carolina, and South Carolina Boards of Speech-Language Pathology and Audiology, has a Certificate of Clinical Competence from the American Speech-Language-Hearing Association, and holds a Georgia educator certificate. Adina is a RESNA certified Assistive Technology Professional and an IAAP Certified Professional in Accessibility Core Competencies.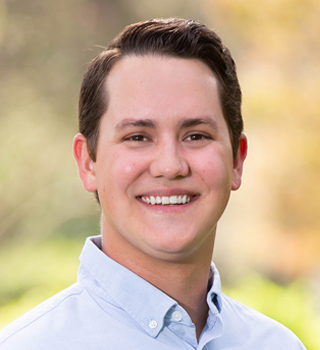 Jeff Powers
Program Manager
Read bio
As Program Manager, Jeff oversees all of Team Gleason's Program Services. Jeff's role ensures the continued progress of the overall Team Gleason Mission in each facet of the organization, including the Technology and Equipment Team, the Adventure Program, and Respite Services. "The work that we do here at Team Gleason is both challenging and extremely rewarding. Getting to work with such an incredible community of people everyday is a real blessing." Jeff is dedicated to helping Team Gleason meet its goal of reaching 100% of the ALS community in the United States.
Jeff joined Team Gleason on the simple premise that if you love what you do, you'll never work a day in your life. A native New Orleanian, he grew up with a sense of community, compassion for helping people, and to make the world a better place. Having an uncle who had ALS and being impassioned by the work of Team Gleason, Jeff is a perfect fit for advancing that mission.
Michael Holoway
Technology & Equipment Team Lead
Read bio
Louisiana native Michael Holoway is a perfect addition to the Team Gleason Technology program. His experience in leadership, management and customer service is incredibly valuable for Team Gleason's mission, but also critically important to the ALS community.
In joining Team Gleason, Michael said, "the ability to bring positive change into people's lives is the most rewarding thing I have ever had the pleasure of doing in my professional career."
Michael is a life-long Saints fan and that kind of fighting spirit is a job requirement at Team Gleason.
Mary Schmidt
Logistics Coordinator
Read bio
Mary's experience as a special education teacher led her to develop a deep interest in promoting accessibility for others. Working with students with limited verbal communication and motor skills helped guide her to her role as a Technology and Equipment Associate. "As a special education teacher, I worked with students who used various AAC devices and adaptive equipment and, in doing so, I became really interested in how those technologies can promote independence and improve someone's quality of life."
Building relationships with the ALS community is important to Mary. She enjoys assisting those living with ALS and their caregivers, especially learning and understanding their unique needs and finding accessible solutions. Mary believes that everyone has the right to independence, and she is proud that her work with Team Gleason truly enhances the quality of life for others. 
Mary grew up in Hattiesburg, Mississippi and attended college in Jackson before moving to New Orleans. As a diehard Saints fan, she was a natural fit. Mary brings a unique and valuable perspective to Team Gleason through her past experience and we are lucky to have her on the team.
Yutha Basuseto
Technology & Equipment Project Lead
Read bio
Yutha plays a critical role in communicating with people and families living with ALS about the benefits of the equipment or technology they may need. Her goal is to ease some of the fears about those needs by sharing valuable information and ongoing support.
Yutha's path from Boston to New Orleans came through interning at the State Department, working for a law firm, and on a Congressional campaign. But her overwhelming passion for life is in public service and humanitarian work. Yutha credits her drive to work for a non-profit with being raised by a family who dedicated their lives to helping others. Team Gleason and the ALS community are grateful.
Mollie Bush
Technology & Equipment Associate
Read bio
Inspired by Steve's story and the work Team Gleason does, Mollie is thrilled to join Team Gleason as a Technology and Equipment Associate. With previous experience as a certified nursing assistant and as a caregiver, Mollie is passionate about working each day to ease the stress of people living with ALS and their families. "I've witnessed first hand people struggling to live productive and independent lives because of the lack of resources provided to them. The programs Team Gleason provides for people living with ALS are exceptional."
 Mollie is excited to expand her knowledge of accessible solutions and looks forward to forming lifelong connections within the foundation. 
Jarrett Orr
Technology & Equipment Associate
Read bio
With a degree in Computer Science from the University of New Orleans, Jarrett's ability to troubleshoot equipment and eagerness to learn about assistive technology makes him the perfect fit for Team Gleason. As part of the Technology and Equipment team, Jarrett draws from his past experience working in IT to assist people living with ALS. Educating pALS on assistive solutions and helping them navigate available options for equipment are just two of the daily tasks Jarrett takes on.
Working within the non-profit world comes easy to Jarrett as he was raised by a parent with a tenure in non-profit fundraising. As a native New Orleanian, he understands the importance of Team Gleason and felt called to serve his city. You can find Jarrett all over the Greater New Orleans area exploring restaurants and the newest pop-ups. He'll tell you all about his bobblehead collection or chat about the Saints, Pelicans, or St. Louis Cardinals.
Chontayia StPe
Technology & Equipment Associate
Read bio
Coming from a background of in-home care and customer service, "Shon" is a perfect fit for not only Team Gleason, but for the ALS community.  As the Logistics Coordinator, Shon oversees all inventory, including updating and troubleshooting devices, shipping and prepping equipment, and processing donations and returns. She loves working with and learning about assistive technology. Her focus is always to make the lives of those with ALS more manageable with added independence while supporting those who care for them.
There is a consistent theme with all who work at Team Gleason to make life better for those living with ALS and Shon is no exception. She chose to join Team Gleason in her path to help make an impact on the lives of others. Shon said, "The work I do brings me so much joy. I help provide needed equipment to maintain a degree of independence for pALS and take the stress off of caregivers and families. It gives me a sense of gratitude and humbleness." And we are so grateful Shon is here to help the ALS community continue to do those special things.
​
Travis Lux
Technology & Equipment Associate
Read bio
Travis credits his experience as both a journalist and a nursing assistant to his ability to connect with others. His time working in hospice care taught him the value of feeling comfortable as a patient, the impact of disease management and education, and the importance of caring for the caregiver. Disappointed by the gaps left in the healthcare system, Travis felt a calling to work for a non-profit that delivers real and tangible support to people in need.  
Travis brings his Southern charm with him wherever he goes. Originally from Texas, Travis has lived all over, including Memphis, the Northeast, and Baton Rouge, before falling in love with Louisiana and calling it home. Travis studied Anthropology and Sociology at Rhodes College and graduated in 2012. When he isn't petting every dog he sees or cooking a new batch of soup, you can find Travis fixing up his houseboat in the Louisiana swamp!
Emily Cornett
Adventure Coordinator
Read bio
Emily's love of travel is the perfect prerequisite to create and coordinate Team Gleason Adventures for people living with ALS. She's traveled extensively and understands not only the joy and anticipation of travel, but also the preparation for a successful adventure. She says it best, "traveling changes you and informs you. If I can help anyone travel, especially those facing barriers they shouldn't have to, I'll be happy." 
If her travel background wasn't enough, Emily has worked in disability rights and in journalism. She first learned about ALS through the Ice Bucket Challenge and then saw Steve and Team Gleason in a Mardi Gras parade. Once she became more familiar with team Gleason's mission, she joined the Team in an effort to return to helping people. We are thrilled to have her, but we especially hope she brings some of her Scottish folk dancing skills to the team.
Kacie Banegas
Marketing Associate
Read bio
Steve once said, "through adversity we find our heroes," and our very own Content Development Associate, Kacie Banegas, is a living example of that statement. Kacie is a Type One diabetic, who like the ALS community we help, is empowered through the use of technology. Every day, Kacie uses innovative technology to manage her Diabetes, so she knows all too well how the power of technology can give back some of what diseases take away.
Kacie is the consummate "message-bringer." She uses her natural writing abilities to share inspiring stories about the ALS community and the work Team Gleason does as community partners. Kacie was born and raised in New Orleans and we are glad she calls Team Gleason "home."
Jamie Clark
Events and Development Associate
Read bio
As Jamie puts it, everything seemed to line up perfectly for her to join Team Gleason. Her love for hosting events and bringing people together makes her job as the Events and Development Associate feel like anything but work. Jamie is excited to unite the Team Gleason community – fun included! "It is an important part of humanity to connect with others, especially with those who are going through similar life circumstances," she says.
With a background in event organization and fundraising, Jamie looks forward to spreading awareness about ALS and helping to educate others. This New Orleans native loves to have a good time and hopes to see you at the next Team Gleason party!
Kristi Cook
CRM and Development Associate
Read bio
After working in the corporate world for almost two decades, Kristi sought a new opportunity to make a difference as the CRM and Development Associate. Kristi specializes in customer service and oversees the software that enables Team Gleason to connect with our community in such a meaningful way. She loves that her work directly impacts the lives of people who need it most. She enjoys building relationships with those living with ALS, their caregivers, and the greater community.
Kristi says she is originally from "Kenna-Bra" and currently lives in Metairie, just outside of New Orleans. Before joining the team, Kristi actually volunteered for Team Gleason for many years!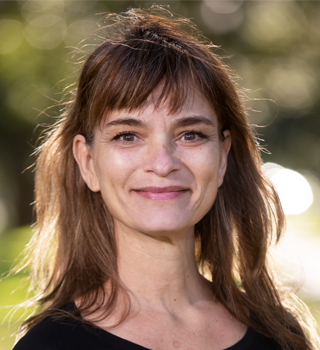 Liz Chapoton
Support Services Coordinator
Read bio
If there was ever a real-life superhero, the ALS community would tell you it's Liz. Working directly with families living with ALS, Liz navigates insurance benefits and helps locate additional resources as needed. Longtime friend of Steve and Michel, Liz jumped right into supporting Team Gleason. "Following Steve's diagnosis, I sought out families living with ALS, all of whom welcomed me and were eager to share their hard-earned knowledge and experiences," she says. "If it can be said that there is a silver lining to this awful disease, it is the community. I've never met a more intelligent, respectful, and generous group of people and I continue to learn from them every day."
Drawing from personal experiences with rare diseases, Liz hopes that her work with Team Gleason helps make someone else's ALS journey just a little easier.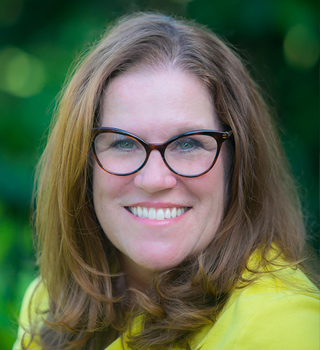 Kelly Viator
Support Services Coordinator
Read bio
As the founder of the Louisiana/Mississippi Chapter of the ALS Association who led the organization for 12 years, Kelly has a deep understanding of the needs of the ALS community. After losing her mother to the disease in 2001, she's been committed to learning and teaching about ALS, while comforting and supporting the community.
As Team Gleason's Respite Care Coordinator, Kelly is not only focused on supporting families who need respite relief, but she also connects directly with families after a recent diagnosis or ALS families who have unique questions or needs. 
Although Kelly has a specific role with Team Gleason, her purpose is best described in her own words, "I want to help bring light to their darkness, and hope to their despair. I only want to help as many families as I can."
Rian Emmerson
Northwest Liaison
Read bio
Rian is integral in all aspects of Team Gleason's Pacific Northwest activities. Within the organization, Rian has known Steve the longest. She is his linebacker-in-law, as her husband Grady played football with Steve at WSU.

Despite not knowing much about ALS when Steve was diagnosed, Rian dug in and began helping in every way. She's been instrumental in the growth of Team Gleason in Steve's hometown of Spokane through Gleason Fest, the Gleason Classic Golf Tournament, and other events, while creating many more key programs that benefit people living with ALS.
"Our foundation continues to work with leading minds in technology, and we believe we will continue to change how many live with physical limitations. Help us keep pushing the limits."
– Steve Gleason