Voice Banking, BCH Message Banking™ Protocol or 'Double Dipping'
While a communication device may address the "functional" side of communication, losing one's natural speaking voice can be emotionally difficult as well. Preserving one's natural voice through Voice Banking, BCH Message Banking™ Protocol, or through the 'Double Dipping' process may allow a person to have a unique, personalized voice file that mimics one's natural speaking voice and may allow one to preserve signature messages or 'isms' so they may always be communicated exactly how you wish them to be heard
For people who do not have a clinician knowledgeable with Voice Banking, BCH Message Banking™ Protocol & 'Double Dipping, Team Gleason has established a partnership with Boston Children's Hospital/Harvard Medical School.  This partnership is designed to provide support to people with ALS while also mentoring a local ALS clinician who commits to collaborate with multiple pALS on virtual calls; ultimately carrying out the full protocol independently, so we may identify them as a local 'Champion'.   We are pleased to provide equipment and support through our partnership with John Costello and his team in the ALS Augmentative Communication Program at Boston Children's Hospital.
Voice Banking is a way for pALS to create a synthesized or "computerized" version of their natural speaking voice. The benefit to voice banking is that a pALS can use their personal synthesized voice with their Speech Generating Device (SGD), thus their SGD voice sounds very similar to their physical voice. Voice banking can be done in several ways with various software. Access to voice banking can be done with free software, while others have a fee.
Acapela and ModelTalker are speech synthesis software packages developed for people who are losing or who have already lost their ability to speak. It allows people who use an SGD to communicate with a unique personal synthetic voice that is representative of their own voice.
BCH Message Banking™ is a way of digitally recording and storing words, phrases, sentences, personally meaningful sounds and/or stories using your natural voice, inflection and intonation. When a pALS uses a communication device, a synthesized computer voice will "speak" the sentence that is typed. Any message that was "banked"  such as "I love you", "I'm proud of you", "Please do me a favor", etc., will be spoken out exactly as you recorded it.  These phrases are recorded when the pALS still has the ability to speak.
As developed by John Costello at Boston Children's ALS Augmentative Communication Program, Double Dipping is a way to use your message banked messages to create a synthetic voice with Acapela. That way, you can use your energy to capture banked messages that you will really want to have available and then those messages can be used to create a synthetic voice. If one banks 800 or more good quality messages following the BCH Message Banking™ process, those may be used instead of needing to record scripted sentences into your computer. Both your banked messages and your Acapela synthetic voice may be used together in your SGD.
Frequently Asked Questions
Who is eligible for Team Gleason funding of Acapela and/or Model Talker?
A: Anyone living in the USA that has been officially diagnosed with ALS.
Are you a Veteran in need of Voice Banking?
A: 
Visit: https://mov.acapela-group.com/start-now/
Fill out the form.
Under Purpose of Usage - Choose 'Medical'
Under Request for funding through an organization - Choose 'Department of Veteran Affairs'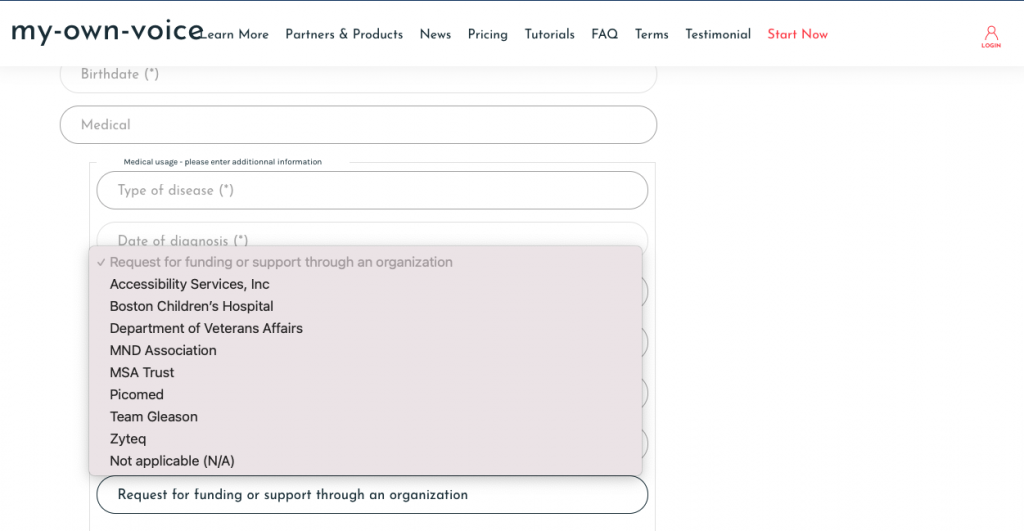 How many phrases do I need to record?
A: Each system has different parameters. Acapela now only requires you to record 50 sentences. Model Talker recommends 400 phrases as the minimum, suggests at least 800, and allows for 3200 phrases.

How do I get started voice banking with ModelTalker or Acapela?
A:​ Please fill out the Need Assistance form and a team member will be in touch with an explanation of available options.
What do I need to start voice banking?
A: A computer, an internet connection, a quiet place, and time. It is also suggested that an external microphone is utilized, as the quality will be better than using the built-in computer microphone. 
What do I need to start Message Banking or Double Dipping?
A: For best results and flexibility to record anywhere, a Zoom H1n recorder is used.
Team Gleason already paid for me to complete voice banking with one system. Can I still apply for funding assistance with the other system?
A: Yes, you can still apply for funding assistance with both systems.
I have already lost my voice; can I still voice or message bank?
A: At this time, neither Acapela nor Model Talker support the creation of a synthesized voice from past recordings. In this situation, some individuals choose to have a relative or friend record the phrases for them. Team Gleason is willing to cover the cost for a proxy synthetic voice.
My Voice is starting to change; can I still voice or message bank?
A: Voice and message banking is most successful when your speech is clear and easily understood but many people have been successful, even when their voice has changed substantially. It is important to understand that, depending on the option selected, the process of voice banking and/or Message Banking may take several hours of your time and energy over several days or weeks.
We recommend that you check with a speech language pathologist to make sure you are a good candidate before enrolling in a voice banking program. If you don't have someone available, our partners in the ALS Augmentative Communication Program will assist you.
I do not have a speech-language pathologist or any clinic team member available to help me understand the process of Voice Banking, Message Banking or Double Dipping; what do I do?
A: If you do not have a clinical support system working with you, we will connect you with our partners at the ALS Augmentative Communication Program at Boston Children's Hospital, the originator of the Message Banking™ process and the Double Dipping Method, to guide you through the process.