Team Gleason was thrilled to assist Majid and his family on a one week trip to Washington State to see the Hoh National Rain Forest. Here's their story: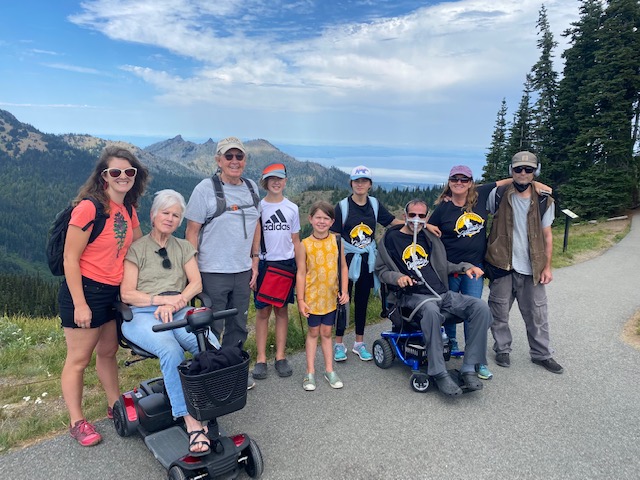 "All of us being able to be outdoors in nature and on the trails together was absolutely the best. Being able to be with family and see the kids interact with their grandparents was also very special for us. 
We had a wonderful time! The house was great! The location was perfect. It was very ADA friendly. The travel power wheelchair  worked out really well and the airline help was terrific. The various hikes we went to were very close by. The weather was wonderful and everyone enjoyed our time together. Oh, and we learned we were able to get a National Park Pass for free as anyone can with a disability!
Our challenges were getting the wheelchair in and out of the car. We learned we always need two people to lift it and help Majid get in and out the car. We also had to make a ramp to put over the stairs for the houses we stayed in. Thank goodness we had two carpenters (my dad and brother-in-law) who figured out how to build one with plywood and 2×4's. 
This trip gave Majid motivation to go on more outdoor adventures while it is possible. Where there is a will, there is a way.  This gave me, the caregiver, a chance to see him happy and enjoying life. We got away from our daily routine and we're able to laugh and feel normal, for just a little bit.
Thank you so much to everyone there who helped make this happen. It was a perfect week – connecting with family and leaving our worries behind a bit."
Sending our best,
Marilyn, Majid, and Mina Karimi