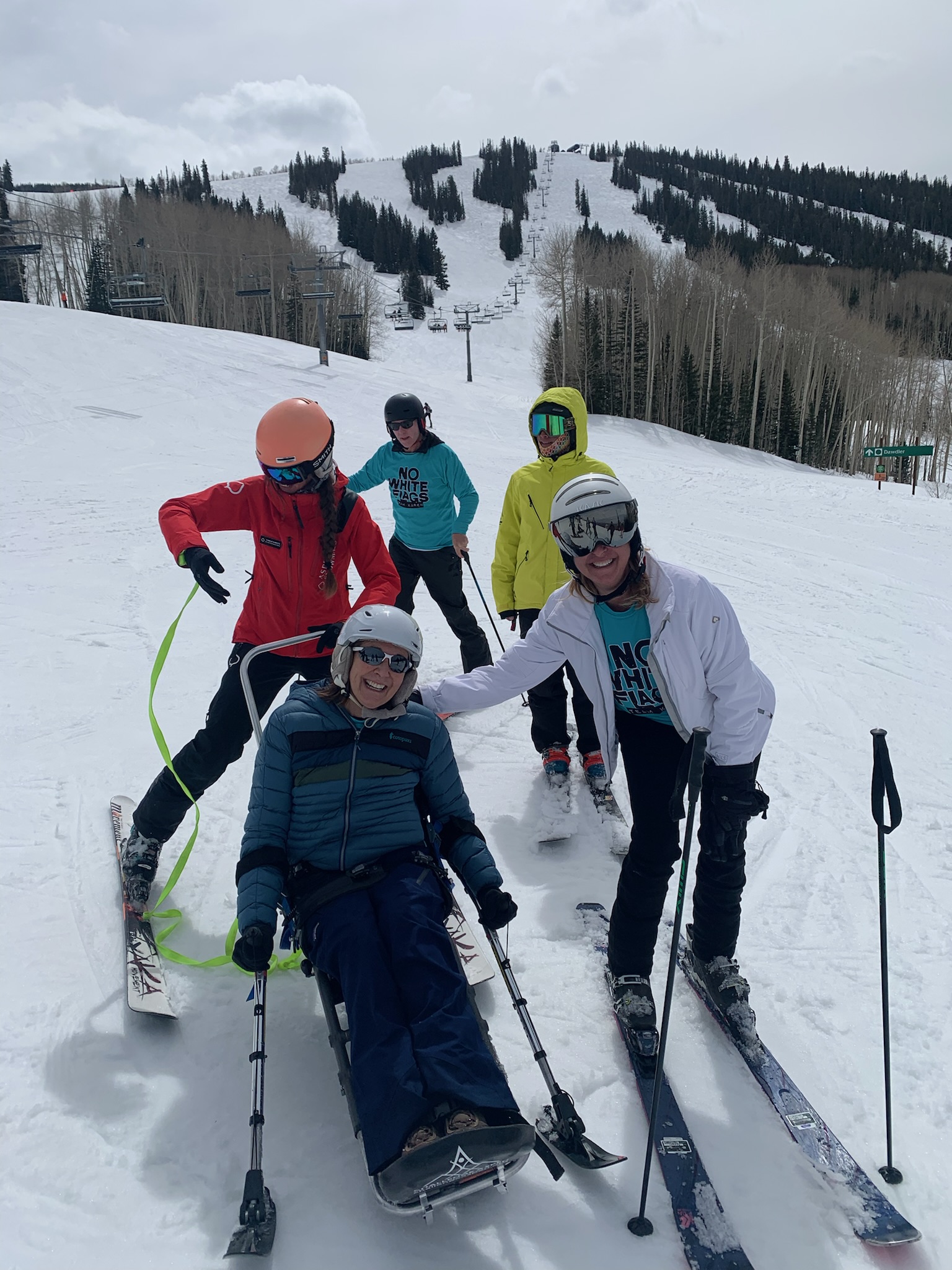 Prior to her ALS diagnosis, Karen Stiles was a giant outdoor enthusiast. "My love for hiking, mountain climbing, skiing, and kayaking is such a part of my life," she says. Karen can usually be found enjoying the fresh air along with her family.
When Karen wrote to Team Gleason about her Adventure, she knew exactly what she wanted to do. "My Adventure is to go to Aspen in the springtime and learn how to sit-ski," she wrote on her application. "I would take lessons at the school and learn with my husband. He was a former ski instructor during his college years and would learn with me so that we can continue to enjoy skiing together as this has been such a huge part of our outdoor life," she continued. "Enjoying a few other activities like a dog sled ride to dinner and a horse drawn carriage ride would be an awesome addition to the experience."
During the planning process, Team Gleason was also connected with Karen's sister, Alison. "Karen and I, along with our husbands, have skied in Snowmass for the past 11 years and vowed that we would ski together until we were little old ladies. We never contemplated an ALS diagnosis but we adopted the #NoWhiteFlags mentality and made it happen." Alison let us know that she had an idea to enhance Karen's Adventure even more.
Alison, who works with Southern Glazer's Wine & Spirits (SGWS), reached out about the possibility of turning Karen's Adventure into a full-blown event to benefit the ALS Community. "My SGWS team put me in contact with the General Manager of Venga Venga, Alex Young. Alex immediately stepped up, donating the venue and food, promoting the event, and he also put me in touch with Julie Hardman, the Special Event Manager for the city of Snowmass.
Julie immediately committed to helping with the event upon hearing Karen's story and learning about Team Gleason. She arranged for banners all around the village and a banner hung on the bridge into Snowmass. The Aspen Mountain Residences also helped promote the event amongst its residences throughout the week." Karen and her husband also received lessons and training from Challenge Aspen, a local nonprofit organization dedicated to "creating possibilities for people with disabilities."
Venga Venga is perfectly located right off the slopes in Snowmass Village. This cozy venue space provided the perfect observation point for the main event of Karen's Adventure: sit-skiing down the mountain. As part of the event, Venga Venga donated a portion of the proceeds for each margarita sold that night to Team Gleason, drawing in a big crowd.
"It is so hard to describe how meaningful this event was to our family," wrote Alison. "Family members and friends flew in from all over the US to support Karen and Team Gleason." As Karen made her triumphant trek down the mountain, her family, friends, and the Snowmass community gathered at the foot of the slopes, cheering her on. The night ended by enjoying delicious food and margaritas while mingling with the local Snowmass crowd.
"Thank you to everyone at Team Gleason for making my trip to Aspen such an amazing Adventure!" Karen continues, "To be able to learn to sit-ski with my family and friends…there were 26 of us all in our No White Flags ski tops on the Mountain. Having that love and support was beyond anything I have ever experienced. I was sit-skiing all my favorite runs by day two. Thanks to Kami and everyone from Challenge Aspen – the best instructors! My husband says I get this certain smile when I am joyful. I felt pure joy on the mountain! So many people asked about us. I had a cheering support group!"
Karen says that she made countless new friends that night. "So many people showed up and shared their personal stories of ALS," she wrote. Karen's sister, Alison, shared the same sentiment. "The love and support provided not just to Karen but her family and those that attended was incredible. During the event, several people approached me because their parents or siblings passed from ALS, or were currently living with it, and they either saw the banners and posters around town or just happened to be at Venga Venga. They were overwhelmed with being at the event and joining in on the fun, along with learning about Team Gleason."
Altogether, the Mountains & Margaritas Snowmass Event raised over $11,000 benefiting Team Gleason and the ALS community.
Talking with Alison, it was clear that this family truly followed Steve Gleason's adventurous attitude. "I learned about Team Gleason from a colleague right after Karen was diagnosed, who insisted we must follow Steve Gleason on Instagram. Team Gleason has provided so much support for Karen, from her motorized chair lift, voice banking, and now, this adventure in Aspen. We could only think of giving back in a meaningful way.
We hope Karen will help inspire and support others living with ALS – she is an incredible person, who while facing the hardest challenge in life, does so with grace, laughter and unselfish love for her family. "When asked how it felt skiing down the mountain on that special night of her Adventure, Karen wrote, "I have to say that learning to sit-ski made me feel like I can still do so many new things!
ALS takes so much away but I plan to replace the 100 things I have lost with 100 new things I have yet to do!
Thank you to Team Gleason for helping me on this journey. Most of all, thank you to my family and friends who made this such a magical trip full of amazing memories. My heart is full. No White Flags!"