July 2021
Roger has spent his entire life helping others. Team Gleason was thrilled to help on his ALS journey with a whirl-wind cross country train Adventure. Starting in Chicago, swinging by the Grand Canyon, cruising up the west coast, swimming in the cold waters of Icicle Creek, and across the badlands, Roger found that the people he met were the true highlight of the trip.
"I mean, surprisingly, it was me and the people on the train," said Roger. "It was just neat how you met people and there was just a commonality and you just kind of clicked." Roger was able to cruise the rails in a Roomette, a cabin with two chairs that converted to bunk beds. For meals, Roger and his wife, Valerie, would sit across from new people every night. The most memorable meeting did get off to a rough start.
"There was interest in what we were doing, yeah, especially when I wore my shirt that said, 'I'm not drunk. I have a ALS.' That's a great conversation starter. In fact, there's one guy at the table and he has a big attitude. He says, 'I was offended by that shirt. I did not think you had ALS, so I'm really really glad that we had a chance to visit.' And he says, 'You've really helped me open my eyes.'"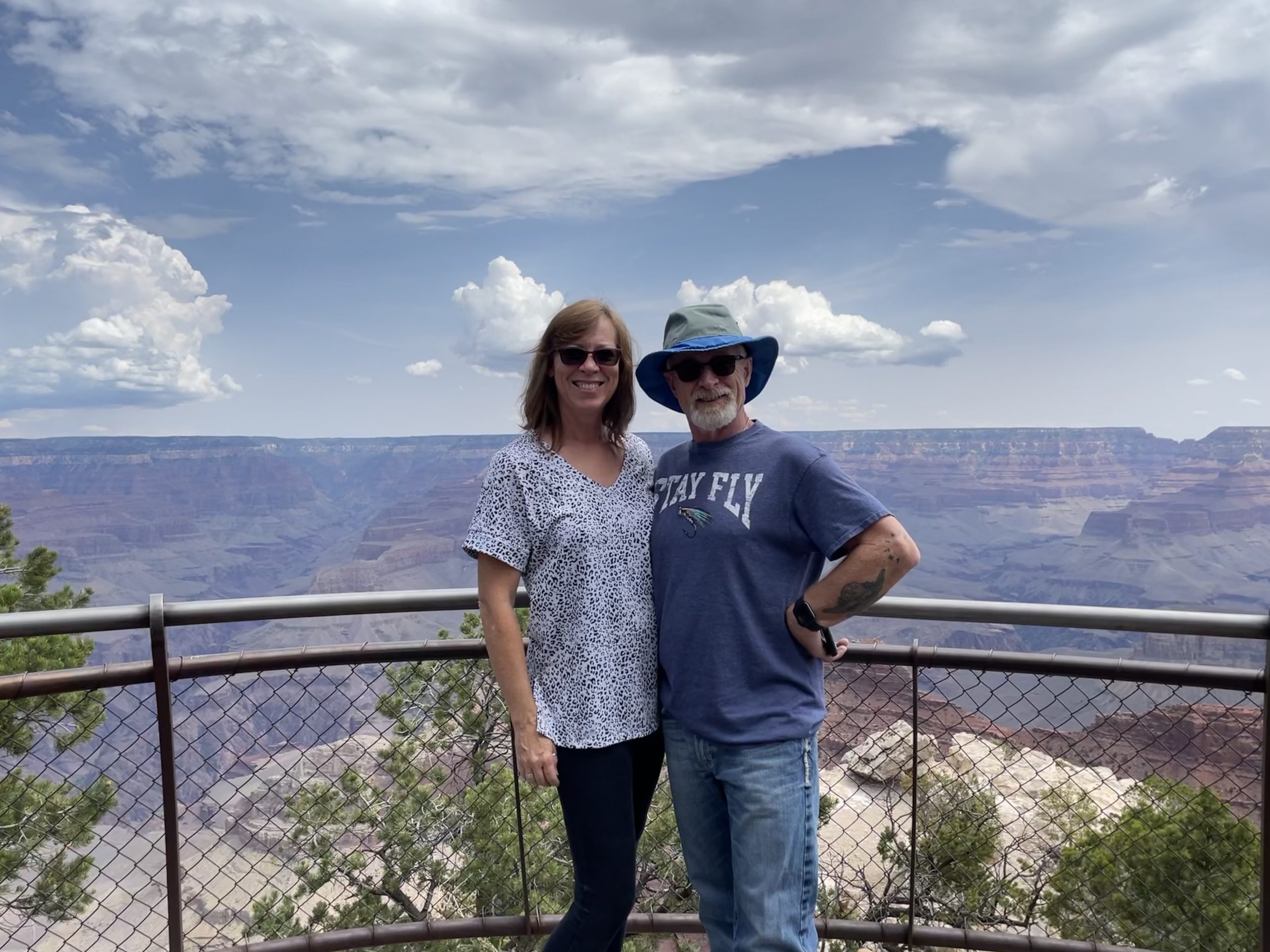 Roger was diagnosed with ALS in January of 2021. He reached out to Team Gleason for preserving his voice through voice and message banking, a voice amplifier, and a Jazzy Passport for long distances. Committed to living his life to his fullest, the former biker was determined to go big or go home for his Adventure. "From ALS symptomology, many people said go on a cruise. Well, to me a cruise is a vacation. I want to adventure and to be challenged a little bit and this train trip provided that. I don't think I regressed any physically because of the trip," said Roger.
The first big stop was at the Grand Canyon, where they watched storms sweep through the iconic landmark.
"You know it's just, it's very peaceful. It's kind of haunting for some reason, but yet you don't feel small."
Of course, it's not an Adventure until something goes wrong. When leaving the Grand Canyon, somehow their luggage got left behind. Their entire trip up the west coast, they were trying to figure out how to get it back. With the dedication of Amtrak staff and one amazing shuttle driver, they were reunited with clean clothes in San Francisco. Passengers rallied around them, but fortunately they didn't have to take up someone's offer of their husband's underwear. 
From San Francisco,  they went up the Half Dome in Yosemite, met up with friends in Seattle and then turned west. Roger and Valerie were able to take a day to swim in one of Roger's old haunts, Icicle Creek. "It is an absolutely beautiful trip, but I think that ended up probably being my favorite place. I was too tired to fly fish, but I just can't help but get in the water."
From Icicle Creek, they spent the last few days of their trip back on Amtrak, watching the west go past them together.
When applying, Roger made it very clear what he wanted to achieve: "I believe Amtrak Adventure will push my limits but not overpower them. I wish to pilot this trip. I wish to share this trip with other pALS to enlist a desire to participate in life without the disappointments of 'what might have been.'"
Along the way he pushed himself, met amazing people, and was able to continue to grow.
"I've always been on the other end, to help with other people. And it's so hard to accept from others. But it's a discipline I'm learning. And it's good for me. And I thank you for that too. It makes me a better person. Thank you so much for sending us on this trip."