Frequently Asked Questions
Click here for the pALS device-friendly FAQ page.
Besides a Speech-Language Pathologist, who else can provide assistance with a communication device?
A: The Speech-Language Pathologist should be the initial point of contact.
Representatives from the device manufacturer will usually assist with trials, initial setup, and troubleshooting. To find a local representative, check the manufacturer's website.
Others that may be of assistance include occupational therapists, Assistive Technology Professionals (ATP), and others within the ALS community such as the ALS Association and local support groups.
What companies sell communication devices?
A: Here are some of the companies that currently develop and sell communication devices. The companies are listed in alphabetical order, and their inclusion in this list is not a recommendation for their devices or services.
If Team Gleason offers a loaner device, how long is the loan period?
A: When Team Gleason provides a loaner device, there is no time limit associated with the device. The device can be used as long as it is needed. In a scenario where the pALS is unable to use the device, it must be returned to Team Gleason. Contact  returns@teamgleason.org to arrange for the return of the device.
What is Steve's current communication device and set up?
A: Steve is currently using a Surface Pro 6. Steve's Surface configuration is the i5 processor, 8GB RAM, and 256GB storage. For navigating the computer, Steve is using the Tobii PcEyeMini. The PcEyeMini is an eyegaze tracker that connects to the Surface Pro via the USB port. Since the Surface Pro 6 has one USB port, Steve uses a USB hub to add more USB ports to his Surface. As a side note, Steve's technology configuration will not work for everyone as noted in prior questions. It is specific to his physical ability and personal preferences.
I do not have a speech-language pathologist or any clinic team member available to help me understand the process of Voice Banking, Message Banking or Double Dipping; what do I do?
A:  If you do not have a clinical support system working with you, we will connect you with our partners at the ALS Augmentative Communication Program at Boston Children's Hospital, the originator of the Message Banking™ process and the Double Dipping Method, to guide you through the process.
I am living with ALS and have Medicare. How do I go about getting a power wheelchair?
A: To acquire a power wheelchair through Medicare, the following must be completed:
A face to face exam by your neurologist or primary care physician. During the face to face examination, your doctor will determine if a power wheelchair is reasonable and necessary for you and write a prescription.

A power wheelchair evaluation: This is usually done by either a Physical Therapist (PT) or Occupational Therapist (OT), oftentimes done with assistance from an Assistive Technology Professional (ATP) from the Durable Medical Equipment (DME) supplier who will order and deliver the wheelchair to the end user. A thorough wheelchair evaluation for an individual with ALS should include trials of multiple power chairs in the user's home environment, simulation of proper positioning supports, measurements of the end user's body, and a proper cushion and backrest to maximize pressure distribution for each user.

The DME supplier will submit the necessary documentation to Medicare for pre-authorization. After pre-authorization is completed, the end-user will be notified of the estimated copay amount before the chair can be ordered. Medicare will cover 80% of a covered power wheelchair, and the end-user is responsible for the remaining 20% and all non-covered items. Medicare will not fund a power chair if the end-user is in a facility, nursing home, receiving hospice, etc. Keep in mind that the wheelchair provider CANNOT place the order for the power chair without your authorization.

Make sure that all of your questions are answered about the product and you are content with the options presented to you during the evaluation BEFORE placing the order for the chair. Medicare will pay for one power wheelchair every five years.

Currently, Medicare does not cover seat elevators. If you are requesting assistance from Team Gleason for a seat elevator grant, this must be submitted to Team Gleason prior to placing the order for the chair.
Does Team Gleason assist financially with power chair copays?
A: No, Team Gleason does not assist financially with power chair copays.
I was told by my provider that Medicare denied my power adjustable seat height seat elevator and that I must pay out of pocket for this feature. Can Team Gleason help me?
A: Medicare does not pay for power adjustable seat height features as they are deemed by CMS to be "not medically necessary" and used for "convenience." Team Gleason has partnerships in place with Invacare, Permobil, Quantum, and Sunrise to help issue grants for seat elevators. If the chair has already been ordered, Team Gleason cannot provide assistance for the seat elevator portion.
How do I apply for seat elevator or attendant control grants for the power chair that I am going to order?
A: Grants are available for new chairs that have not yet been ordered. These power chairs must be in quote form. NOTE: If the order for your power chair has already been placed, Team Gleason will be unable to assist with grants. The process for obtaining assistance with additional power chair features are as follows:
What are some companies that manufacture wheelchairs and wheelchair accessories?
A: There are a number of companies that manufacture wheelchairs and wheelchair accessories
​
How do returns work?
A:  Team Gleason cannot accept wheelchairs. Please contact your local ALS Chapter or Muscular Dystrophy Association to pay it forward to others in need. 
Who is eligible for Team Gleason funding of Acapela and/or Model Talker?
A: Anyone living in the USA that has been officially diagnosed with ALS.
Are you a Veteran in need of Voice Banking?
A: 
Visit: https://mov.acapela-group.com/start-now/
Fill out the form.
Under Purpose of Usage - Choose 'Medical'
Under Request for funding through an organization - Choose 'Department of Veteran Affairs'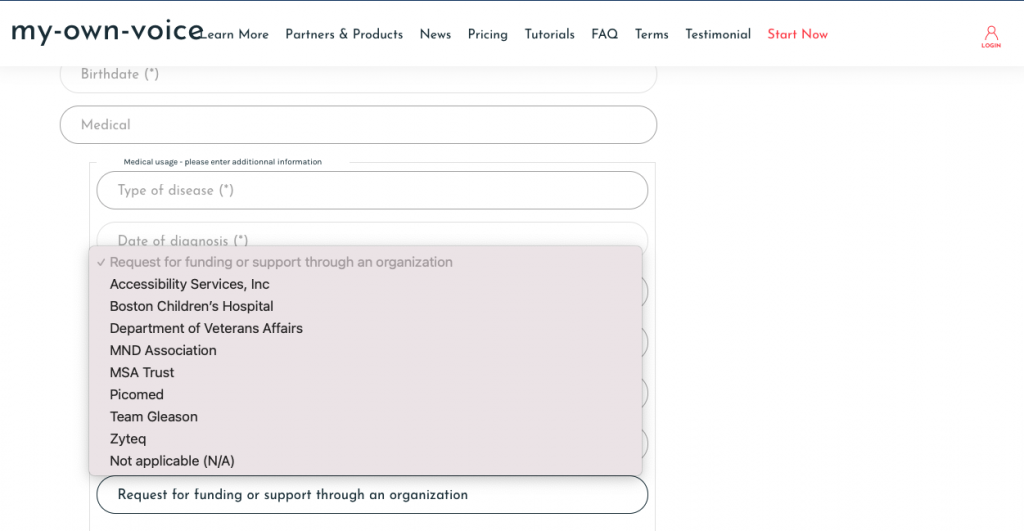 How many phrases do I need to record?
A: Each system has different parameters. Acapela now only requires you to record 50 sentences. Model Talker recommends 400 phrases as the minimum, suggests at least 800, and allows for 3200 phrases.

How do I get started voice banking with ModelTalker or Acapela?
A:​ Please fill out the Need Assistance form and a team member will be in touch with an explanation of available options.
What do I need to start voice banking?
A: A computer, an internet connection, a quiet place, and time. It is also suggested that an external microphone is utilized, as the quality will be better than using the built-in computer microphone. 
What do I need to start Message Banking or Double Dipping?
A: For best results and flexibility to record anywhere, a Zoom H1n recorder is used.
Team Gleason already paid for me to complete voice banking with one system. Can I still apply for funding assistance with the other system?
A: Yes, you can still apply for funding assistance with both systems.
I have already lost my voice; can I still voice or message bank?
A: At this time, neither Acapela nor Model Talker support the creation of a synthesized voice from past recordings. In this situation, some individuals choose to have a relative or friend record the phrases for them. Team Gleason is willing to cover the cost for a proxy synthetic voice.
My Voice is starting to change; can I still voice or message bank?
A: Voice and message banking is most successful when your speech is clear and easily understood but many people have been successful, even when their voice has changed substantially. It is important to understand that, depending on the option selected, the process of voice banking and/or Message Banking may take several hours of your time and energy over several days or weeks.
We recommend that you check with a speech language pathologist to make sure you are a good candidate before enrolling in a voice banking program. If you don't have someone available, our partners in the ALS Augmentative Communication Program will assist you.
I do not have a speech-language pathologist or any clinic team member available to help me understand the process of Voice Banking, Message Banking or Double Dipping; what do I do?
A: If you do not have a clinical support system working with you, we will connect you with our partners at the ALS Augmentative Communication Program at Boston Children's Hospital, the originator of the Message Banking™ process and the Double Dipping Method, to guide you through the process. 
What is the process for acquiring home automation technology from Team Gleason?
A: Fill out the application. A member of our team will get in touch to discuss further details. Once you receive all of your equipment, you will need to hire an electrician to install the equipment (light switches, thermostat, etc.).
In addition to a pALS using Axial from their communication device, can a caretaker also use Axial from their cell phone to control lights, thermostat, etc?
Do I need an internet connection to control my equipment like lights, thermostat, etc?
A:​ You will need an internet connection to download, install, and activate Axial Control on a Windows based computer. The equipment that Team Gleason currently provides utilizes Z-Wave Plus technology, and after Axial Control is installed, it does not require an internet connection. This means that pALS will still be able to control their lights, thermostats, etc, even if they do not have a Wi-Fi connection. The Axial Control app is available on iPhone and Android, but If there is no internet connection, then an iPhone or Android device will not be able to control the system.
Is Axial Control compatible with Alexa?
Does my communication device need to be unlocked to use Axial Control?
A: Yes. Axial Control is a Windows program. In order for Axial Control to be installed on a speech-generating device, the device needs to be unlocked for Windows access. Speech-generating devices can be unlocked with a code from the respective manufacturer for a fee which usually ranges from $25-$49. Contact your respective speech-generating device manufacturer for more info.
What automation equipment does Team Gleason currently provide?
How much automation equipment will Team Gleason provide me?
A: Each automation package is customized to the individual's specific needs. As Team Gleason is a non-profit organization with limited resources, we are unable to provide automation equipment for an entire house, but generally the room(s) or area(s) the end user occupies the most.
Does Team Gleason provide automation equipment for people with ALS living in nursing homes or facilities?
A: Team Gleason is not able to provide automation equipment for individuals living with ALS who reside in a nursing home or facility.
Does Axial provide technical support for people living with ALS and/or their caretakers?
A: Yes. Axial Control technical support is available from Monday-Friday from 10 A.M. to 5 P.M. CST. Please make arrangements for phone support via email at support@axialcontrol.com. Please allow up to one business day for a response from Axial Control.
What type of Adventures get chosen?
A: As​ ​avid​ ​adventurers,​ ​Steve​ ​and​ ​Michel​ ​Gleason​ ​wanted​ ​to​ ​continue​ ​pursuing​ ​life adventures​ ​for​ ​themselves​ ​despite​ ​Steve's​ ​diagnosis​ ​and​ ​found​ ​that​ ​many​ ​people​ ​with ALS​ ​were​ ​choosing​ ​to​ ​accept​ ​their​ ​assumed​ ​limitations.​ ​Because​ ​of​ ​their​ ​love​ ​of adventure,​ ​it​ ​was​ ​important​ ​for​ ​Steve​ ​to​ ​include​ ​adventures​ ​for​ ​others​ ​diagnosed​ ​with ALS​ ​as​ ​part​ ​of​ ​the​ ​Team​ ​Gleason​ ​mission.​ ​Through​ ​Steve​ ​and​ ​Michel's​ ​inspiration​ ​and tireless​ ​work,​ ​Team​ ​Gleason​ ​has​ ​helped​ ​hundreds​ ​of​ ​people​ ​with​ ​ALS​ ​experience adventures​ ​they​ ​never​ ​thought​ ​possible​ ​after​ ​their​ ​diagnosis.​ ​And,​ ​we​ ​hope​ ​to​ ​continue helping​ ​others​ ​experience​ ​these​ ​challenging,​ ​yet​ ​life-enriching​ ​experiences.
What is the application process like?
A: The application consists of questions pertaining to progression, the potential adventure, accompanying people, and the submission of a letter of diagnosis. After the initial inquiry phone call or email, an application will be sent to you to fill out. The Team Gleason Adventure Coordinator will look into the numbers and present it to the staff and board. From there, they will decide to approve the adventure or not. If a pALS is chosen for an adventure, they will be notified via e-mail or phone call.
Do you only choose adventures from New Orleans?
A: No, Team Gleason approves adventures from/to all over! We have sent pALS on adventures to Alaska, Africa, Disney World, and many other places across the globe.
Who pays for the adventures?
A: Team Gleason uses funds donated to the Team Gleason Foundation to create budgets for the Adventures program.
How are flights handled?
A: Team Gleason works closely with Travel4ALS, a travel agency who helps us get the best deals and are skilled in letting the airlines know of the pALS needs.
How are travel expenses handled?
Who can be chosen for an adventure?
Are these adventures "fully paid and all inclusive"?
How many people can I bring on my adventure?
Will Team Gleason plan my adventure?
A: Team Gleason helps facilitate the Adventure. When filling out your application, you will need to be putting in most of the leg work and research into the adventure. If approved, our Adventure Coordinator will work closely with you to plan and develop in-depth details of the experience. Depending on the adventure, Team Gleason also has the assistance of a travel agent to get the best deals.
My adventure has already been booked but I can no longer go. Can I keep the money that was supposed to be used for my trip?